Standipack provides a highly compact and accurate machine for the filling of free flowing liquid products in small quantities. This model is compact and requires minimal service.
Purpose
To fill small quantities between 5 ml to 60 ml with high accuracy.
Applications
Viscous products.
Laboratory filling.
General Features
A volumetric filling device.
Plastic capping system.
A height-adjustable bottle support chute.
Standard Features
Positive volumetric filling control.
Filling range 5 to 60 ml.
High fill accuracy.
Plastic capping system, if needed, can be attached to machine.
Modular type electronic controls for easy replacements.
Design
SPLP machines are built to withstand difficult operating conditions. The complete machine is made of high quality stainless steel EN-304, is a compact table-top model. SPLP machine needs minimum servicing.
Filling of Viscous Products:
The machine is fitted with volumetric dosing pump. The dosing pump is fitted with a rotary valve system and an anti-dripping filling nozzle. The volume to be filled is adjusted by changing the pump stroke.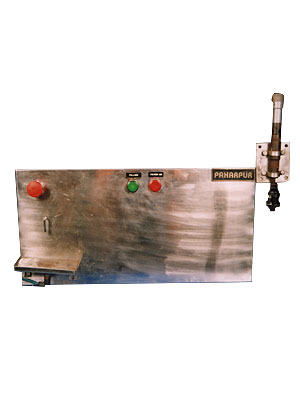 Filling Machine for Liquids
Technical Specification
| | |
| --- | --- |
| Capacity | 5 to 60 ml |
| Production rate | 600 to 900 bottles per hour |
| Power Supply | 220 V/110 V ±5% 250 Watt Single Phase AC 50 Hz |
| Compressed Air | 5 cu. m. per hour @6 kg/cm² working pressure. |
| Capping System (Optional) | Can provide plastic capping system on bottles as per cap size given |
| Dimensions | 635 mm x 255 mm x 355 mm |