STANDIPACK provides a complete range of semi-automatic filling and sealing equipments for the packaging of fruit juices & free flowing liquid products.
Applications
Hot fruit juices.
Juices containing fibers.
Any other free flowing liquid product.
General Features
The machine is fitted with:
Preformed standup pouch holder.
Device for opening preformed pouches by inflation.
Gravitational filling device.
Impulse sealer, with separate sealing and cooling controls.
Height adjustable pouch support chute.
Standard Features
Positive gravitational filling controls.
Filling range 50 ml to 1000 ml.
Dosing cylinders and nozzle sizes to suit filling range for higher fill accuracy.
Operator controlled button for dosing operation.
Impulse sealing with chilled water cooling or capping system for pet bottles.
Coding by hot embossing on pouches.
Emergency stop button.
Design
SPLH machines are built to withstand difficult operating conditions. The steel frame is painted to protect against all corrosion attacks. All components in contact with the product are made from high quality stainless steel, buffed finish. SPLH model is compact and requires minimal servicing.
Packing of Fruit Juices/Viscous Products
For this usage, the machine is fitted with gravitational dosing pump. The dosing pump is fitted with Teflon valve and an anti-drip filling nozzle. The volume to be filled is controlled by adjusting the timer.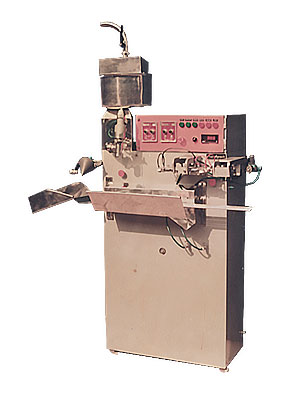 Filling, Sealing & Coding machine
Technical Specification
| | |
| --- | --- |
| Capacity | 50 to 1000 ml |
| Production rate | About 350 to 1000 pouches per hour depending on volume and nature of the product to be filled |
| Maximum Sealing Length | 200 mm |
| Electricity | 110 V/220 V, Single Phase, 50 Hz, AC, 1 KW |
| Compressed Air | 10 m³/Hour at 6 kg/cm² |
| Chilled Water | Consumption = 50 litres per hour at 10-15°C in closed circuit |
| Coding System | Coding by hot embossing on POUCHES. To mark price, month and year of filling or any other variable information. |
| Sealing/Capping System | Impulse sealing followed by chilled water cooling OR Capping system on pet bottles. |
| Dimensions | 110 X 110 X 150 cms |