STANDIPACK has developed Compression Testing Machine to test bursting strength of the filled pouch under compression.
Applications
This compact machine is designed to test filled pouches, ranging from 20 ml to 1000 ml, for the compression pressure as specified.
Assembly
The Machine is made of High quality Aluminium material and its pneumatic parts are of NUCON or FESTO make.
Packing
Complete machine is carefully packed in the Wooden Box before dispatching.
Compressed Air Connection
Dry Compressed Air upto 6 Kg/Cm² From the compressed is to be connected to INLET of F.R.L. unit of the machine. The air pressure through F.R.L. unit, is fed to machine to create pressure on the filled pouch under test.
Operation
Place the filled pouch under the Platen Disc in a closed chamber, so that the pouch lies exactly at center of Platen Disc.
Close the transparent glass by sliding it down words. This provides protection against spillage of liquid outside when the pouch is under test.
Switch on the air supply and operate the hand lever fitted at the right side top of the machine.
Slowly increase the air pressure and read the pressure gauge.
Increase the requisite pressure and note the pressure at which the pouch bursts. Red marked needle would indicate the burst pressure.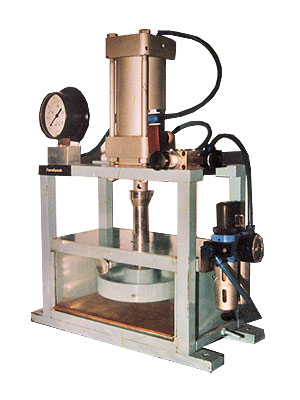 Compression Testing Machine
Problem
Check Point
Machine does not operate.
Check the Air Pressure.
Check the Pneumatic Cylinder.
Machine not working properly.
Check Platen.
Check the movement of Hand Lever.
Check Pressure Gauge.
Adjust the Platen disc.